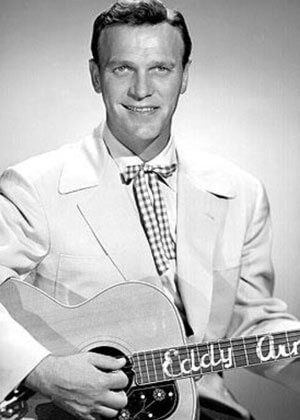 EDDY ARNOLD
Known as the Tennessee Plowboy, Arnold spent his early years on a Chester County farm. His long, distinguished musical career led him from the cotton fields to the Grand Ole Opry, the Country Music Hall of Fame, the White House and Carnegie Hall. He charted top hits for more than half-century. Altogether, Arnold sold more than 85 million records, making him one of the most successful artists of the 20th century. RCA Records released his 100th album, "After All These Years," in 2005.
"Eddy Arnold sold 85 million records," Jimmy Melton, local musician and songwriter successfully pursuing a musical career in Nashville, said. "What makes that even more impressive is the fact that his early hits were during World War II, when rationing was underway. He sold so many that they ran out of shellac at the record pressing plant."
"Eddy had a voice that competed easily with the pop stars of the day. He eased from hillbilly music into mainstream and had a second career in the '60s. In addition to music, he had an outstanding career in real estate," Melton continued. "Not bad for a farm boy from Henderson, Tennessee."
Launched by the Tennessee Department of Tourist Development in 2018, Tennessee Music Pathways is an online planning guide that connects visitors to the state's rich musical heritage at tnmusicpathways.com. From the largest cities to the smallest communities, Tennessee Music Pathways stretches across all 95 counties and features hundreds of landmarks from the seven genres of music that call Tennessee home: blues, bluegrass, country, gospel, soul, rockabilly and rock 'n' roll. Historians identified more than 300 points of interest to date, and additional markers will be installed for years to come.
In 1944 Arnold cut his first record, "Each Minute Seems a Million Years," which became his first charting record. In 1945, he recorded "Cattle Call." Although not a hit at the time, it became his theme song.
In 1946, he recorded "That's How Much I Love You." Within the next four years, his recordings included "Anytime" and "I'll Hold You in My Heart," which sold over a million records. The single spent 46 weeks on the charts, with 21 of those at the top; it also crossed over to the pop charts, reaching the Top 30. In the process, it became the number one single of the decade. It had been 11 years since he "lit out" from Chester County.
Arnold became a familiar face in the early '50s, not only to country fans but also to the general public. He toured all of the U.S. and several foreign countries and was the first country star to have his own television show, "Eddy Arnold Time." His string of Top 10 hits remained unbroken. The number of country hits remains amazing to this day: seven in 1950 and 13 in 1951.
Despite a drop in hits for a period of time in the late '50s and early '60s, Arnold began a new era of dominance in 1965 with "What's He Doing in My World." Not only did he return to the top of the country charts, he once again crossed over to the pop charts. Arnold's second streak of major hits ran until 1969. During this time, he earned several number one and Top 10 singles, all of which were pop hits as well, including "Make the World Go Away" and "The Last Word in Lonesome Is Me." The crossover hits led to Arnold's being credited with creating the Nashville Sound. Hits were fewer in the '70s and '80s, but he did have three in the '70s and two in the '80s, making him one of the few artists who charted in seven different decades.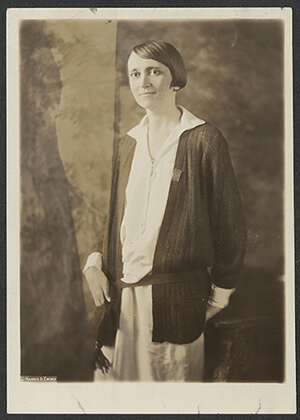 SUE SHELTON WHITE
Suffragist, attorney, writer and politician, Sue Shelton White rose from being the orphaned daughter of Chester County teachers to become one of the state's and nation's leaders in the fight for women's rights, particularly the right to vote. Generally referred to as "Miss Sue," her petite size belied her considerable abilities and will. James Tate, general counsel for the federal Social Security Board, called her "a lady warrior" – both a Southern gentlewoman and a fighter.
Unlike many suffragists who came from affluent backgrounds, White was born May 25, 1887, in Henderson, Tennessee, to James Shelton White and Mary Calista Swain. Her parents were schoolteachers of modest means and were considered by some to be liberal thinkers.
The death of James White in 1893 left Mary White responsible for the support of her seven children. She sold books and pianos, gave music lessons and wrote for the local newspaper. She also tutored her own children. The family lived in what Sue White described as a "twilight zone" between white Henderson and the Black community of Jaybird. Mary White died in 1901, leaving her daughter an orphan at age 14.
White graduated from Georgie Robertson Christian College in 1904 and West Tennessee Business College in Dyer, Tennessee, in 1905. At age 18, she began working as a stenographer in Jackson; a few years later she became one of the state's first female court reporters.
From that beginning, she forged her way to the forefront of the women's suffrage fight. Joining the movement in 1912, she became the recording secretary of the Tennessee Equal Suffrage Association in 1913, but switched her allegiance to the National Woman's Party in 1918. She moved to Washington, D.C., and became Tennessee chair of the NWP and edited The Suffragist, the organization's newspaper.
In Washington, White participated in a demonstration on the White House lawn and burned a paper effigy of President Woodrow Wilson. She was arrested and served five days in jail. Following her release, she joined the "Prison Special," a train that traveled the country calling attention to the cause of women's suffrage. Twenty-six members of the National Women's Party traveled around the country. When they arrived at their destination, they put on uniforms like the ones they had worn in the workhouse for their public appearances. Speaking to large crowds, they described their treatment and the conditions in the prison.
After the U.S. Senate passed the 19th Amendment in June 1919, it was sent to the states for ratification. A little over a year later, 35 states had ratified it. Only one more state was needed to make it law. Eight southern states had already defeated ratification; Tennessee's General Assembly would decide the Amendment's fate. White returned to her home state to lead the fight. Tennessee, by a single vote, ratified the Amendment Aug. 18, 1920.
As clerk and later secretary to Tennessee Senator Kenneth C. McKellar, White continued her fight for women's rights. Having earned a law degree in 1923 from Washington College of Law, she returned to Tennessee in 1926 and practiced law in Jackson until 1930. When Franklin D. Roosevelt was elected president in 1932, White was appointed executive assistant to Mary Harrison Rumsey in the Consumers Division of the National Recovery Administration. During the Roosevelt years, she expanded political patronage for Southern women. White also helped create a women's faction within the Democratic Party, contributing to Roosevelt's winning coalition in 1932. She moved to the Social Security Administration in 1935 where she helped implement the Social Security Act.
White succumbed to cancer May 6, 1943, in Alexandria, Virginia. She is one of five suffragists depicted in a sculpture located in Nashville's Centennial Park. The work of Alan LeGuire, it commemorates Tennessee's role in ratification of the 19th Amendment. The City of Henderson has not only named the downtown park in White's honor, but also has wrapped a utility box with highlights of her legacy.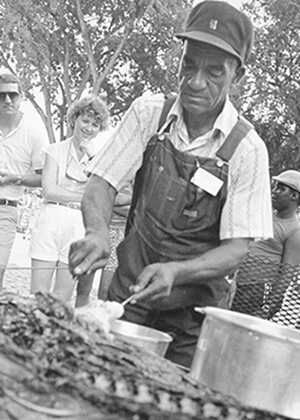 BILL HOWARD
In 2006, Jacks Creek barbecue legend Bill Howard left this earth. For more than 50 years, Bill was known throughout Chester County as "The Barbecue King." He began honing his technique for barbecue in the late 1940s, but his first claim to fame came in 1978 when he was asked to cook for the first Chester County Barbecue Festival. He continued making barbecue for the festival for many years. 
In 1986, Bill and his wife, Helen, were honored with an invitation to attend the Smithsonian Institute's American Folklife Festival in Washington, D.C. Helen, known locally for her pie-making skills, demonstrated southern cooking and pie baking, while Bill introduced festival goers to "hickory cooked Howard's Bar-B-Q" from Henderson, Tennessee. The hand-lettered sign promoting his demonstration at the event read "The Best in the West." 
The Smithsonian Folklife Festival features a different state and a different country each year. In 1986, Japan was celebrated alongside the state of Tennessee and its three grand divisions. The Howards proudly represented West Tennessee cooking traditions, and during their week-long stay, they also talked to people about growing and raising all their own food, including hogs. 
With a farm, animals, and 14 children to tend to, the Howards had not traveled much outside West Tennessee. The trip to Washington, D.C. was the trip of a lifetime! As for selecting a team to represent the culinary traditions of West Tennessee, the Smithsonian couldn't have chosen a better pair than Bill and Helen Howard. 
Bill's legacy continues both through the work he did with his son, Oliver, who helped him barbecue for various events all over West Tennessee and Alabama and through those who watched and learned from him and have passed down barbecue techniques through the decades. Bill and Helen's work ethic and love of community continues through their children: Jimmie Lee Howard, Dickey Willard Howard, Stella Marie (Howard) Garland, Robbie Faye (Howard) Jones, Lewis Oliver Howard, Fletcher Kelvin Howard, Wilma Colleen (Howard) Mallard, Tony Neal Howard, Corlis Regina (Howard) Bumpas, Rosa Elaine (Howard) Platt, Teresa Lynne Howard, Cassandra Monta Howard, Billene Leonice (Howard) Christy and Danny Terrance Howard.